From over at Anne Barnhardt's blog, we come across this article about the results of India and Mexico using Ivermectin to prevent / treat Covid. Wow. (Original article here).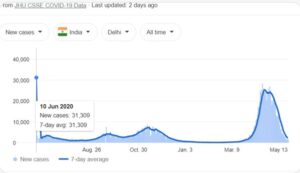 The top of that hump is about where they started handing out Ivermectin like candy at halloween when cases started booming. 24k down to about 1.5k. I'm sure the "experts" will dismiss it as not being properly blocked, planned, double-blinded, etc., and therefore of no value at all, and they'll continue saying there isn't a treatment. But that looks an awful lot like the graph of what happened in Mexico …..
UPDATE: Sort of related: A short video clip from Gab of a doc on a conference call reporting that she's hearing nothing about Covid cases, but LOTS of Covid vaccine-related patients.