Time to start collecting news stories about vote fraud. Whenever the discussion comes up, it seems that those on the left say "no, it doesn't exist, and where it does, it's all Republicans doing it systematically, and you can't prove that when Dems did it it actually had any effect!", etc. Willfully ignorant or lying. Being a voting year, I guess I should make a list of relevant stories. Some will be duplicates, with different articles covering the same underlying event, or the same event as it evolves. Do not read this as a definitive list of individual events or lawsuits. Sorted by day, more or less, oldest at the bottom.
Cool – bumping this to the top, from Gateway Pundit: Complete List of Suspected Fraud Issues in 2020 Election Sorted by State with Recommended Actions on How to Address.
It's possible that 2020's election fraud is way bigger than we thought.
I think I'm going to start tagging each link with simple code for the type of info.
Legal – link is about actual legal proceedings and filing, not just accusations or claim
Verdict – legal verdicts in relevant cases or motions
ETF – Electronic Tally Fraud items
Mail – Mail-in ballot fraud
PBF – Paper Ballot Fraud items
Tek – technical or background information
RSA – Rumors and Suspicious Activity reports
GA/WI/MN/PA etc for state-specific things, FED for federal,
Exp – things to help make explanations easier
Pol – Politicians or their spokesmen doing / saying something.
Hate – expressions of hate for the other political side
18 April 2021:Patrick Byrne linked to this article from March, where a Mississippi judge ordered a new election when 78% of the mail in ballots were found to be fraudulent. This would probably not be possible if Cabal is still operational. But if patriots have taken control of the blackmail files, then they wouldn't even need to prove the fraud to make this happen, and proving it, which they probably will, would be icing on the cake.
A group of forensic experts completed their election audit of Antrim County, Michigan, which details a shocking series of misrepresentations by the media. One America's Christina Bobb has more from Washington.
11 April 2021: Jovan Pulitzer says he was offered $10 million to walk away from investigating voter fraud and assisting with ballot forensics.
In Montana, there were 6.3% more votes than there were envelopes, in an all mail-in election, where every ballot had to be mailed.
Michigan's Secretary of State Benson is not complying with subpoenas and is delaying producing materials in hopes of running out the clock.
Biden puts Susan Rice in charge of the effort to expand vote by mail.
The fraud is everywhere: in Bolivia, a van carrying new presidential election ballots to a voting center is intercepted by civilians, who break it open, showing the ballots already marked with a vote for the candidate and current Bolivian president Evo Morales.
09 April 2021: Attorney Matthew DePerno Releases Michigan Elections Forensics Report – 66,194 Unregistered Ballots Tallied in JUST 9 COUNTIES
Progressive Groups Pretending to be Non-Partisan Launch Intimidation Campaign in Arizona to Stop Proposed Voter ID Law that Will Cut Down on Cheating.
WIsconsin Supreme Court Rules Voters Can Stay on Voter Rolls Even After They Move.
Five Months Since the Election, Georgia Still Lacks Legally Required Chain of Custody Documentation on 355,000 Votes (Most All Likely for Joe Biden)
"The Immaculate Deception" fraud proof PDF
05 April 2021: Mike Lindell's movie with proof of fraud
Patrick Bryne points out Maricopa County Board of Supervisors was supposed to turn over all ballot materials to the County Treasurer, but they have refused to release it, despite there being a criminal penalty, claiming they can't because of pending litigation.
Georgia's Secretary of State Raffensperger petitions the Court, saying he prefers the state not be forced to hand over the ballots for an audit.
24 March 2021:
Georgia needs volunteers to help do a historic ballot audit of the most fraudulent American election in history. Drop an email to [email protected]
Dekalb County, GA is throwing away ballots, envelopes, and other information required to be retained by law for 22 months.
It looks like Dekalb County, GA did order 25 million voter registration forms for a population of less than 1 million.
In Montana, a recent audit of mail-in ballots found irregularities characteristic of larger urban centers — on a level that could have easily swung local elections in 2020, and statewide elections in cycles past. 7% had irregularities which should have disqualified them, some may have been counted more than once, and there were still other cases, such as a nursing home, where every ballot appeared to have been signed by the same signer.
Democrat operative got secret internet connection at the Wisconsin election center where the ballots were counted, emails show.
Wisconsin Assembly OKs full-blown investigation into 2020 election.
Some Courts are still looking at the 2020 election in several states.
21 March 2021: 24 more charged in North Carolina voter-fraud probe including nearly 20 illegal aliens who voted in national election.
Republicans in the Arizona legislature will perform a full hand recount of the nearly 2.1 million votes cast in Maricopa County in the presidential election of 2020, a state GOP leader announced this week, and the audit will be broad and detailed.
U.S. Postal Service investigators found no evidence to support one Pennsylvania USPS employee's sworn affidavit that he heard his superiors discuss tampering with mail-in ballots by backdating them so they would be accepted.
Four months after the November 3, 2020 presidential election, state and county officials in Georgia have failed to produce chain of custody documents for an estimated 404,691 vote by mail absentee ballots deposited in drop boxes.
Judge roles that the concerned citizens of the private group 'Voter GA' can unseal Fulton County Georgia ballots and inspect them for invalid votes in the 2020 election.
A Michigan judge ruled last week Secretary of State Jocelyn Benson (D) broke state law when she unilaterally issued rules related to absentee balloting, legitimizing a key claim made by the Trump campaign.
GA judge gives conditional access to audit Fulton county ballots.
House Democrats on the House Administration Committee are looking at overturning a state certified House election won by a Republican based on a complaint by the Democrat that other ballots should have been counted.
Emails show Zuckerberg-funded group overruled election officials on voting regulations, and gave access to mail-in ballots to leftist activists before the election.
08 March 2021: A federal judge has reinstated a Michigan County voting fraud case after the county clerk dismissed it.
07 March 2021: Dominion assigned a Nigerian national to be the Fulton County technician in charge of all voting machines in that county
After finding shredded ballots in the dumpster earlier today, a mysterious fire breaks out at a Maricopa county official's farm.
Ballots in Arizona's Maricopa county found shredded and in the dumpster days before the Senate audit is to begin.
NH Secretary of State Bill Gardner (a Democrat) has agreed to a forensic audit of ballots in the district where Dominion gave a 6% advantage in the votes to the Democrats. On the surface, it sounds good, but there have been other stories saying the locality wanted to do the audit itself, and felt the State AG was trying to take it over so they could do a cover up. If so, the coverup has begun.
Texas AG says, 'I can tell you there's lots of election fraud' and State's prosecutors are 'overwhelmed with cases.'
Irregular ballots from the 2020 election in Arizona can be destroyed six months after the election.
How did all these State Secretaries of State end up being such shitbags? Flashback to 2006, and the formation of George Soros's Secretary of State project. They have been planning for this takeover of our elections for a long time.
Four months after 2020 Presidential election in Georgia, and there is no chain of custody documents produced for 404,000 absentee ballots deposited in drop boxes.
Two Paterson City Council Democrats indicted on voter fraud charges after using mail-in ballots to steal election.
More information on how the FBI took possession of suspicious ballots in Georgia in early January and ordered them destroyed with a shredder.
A Mississippi judge ruled in favor of a new Democrat Primary election for Alderman, following overwhelming evidence of mail-in ballot fraud, including 78% of mail-in ballots being shown to be fraudulent.
Chinese whistleblower releases video and photos of counterfeit ballot printing operations.
02 March 2021: Confessions of a voter fraud: I was a master at fixing mail-in ballots (from last summer)
10 Dec 2020: AC for the day, and his Twitter Briefs. Lots of election stuff
Lou Dobs – names and background info on the Digital Pearl Harbor.
10 Dec 2020: AC for the day, and his Twitter Briefs. Lots of election stuff
Exp – good summary of the Texas vs P, GA, MI case.
Exp – Tim Pool – good rant about very poor media coverage of Biden dirt.
09 Dec 2020: AC for the day, and his Twitter Briefs. Lots of election stuff
08 Dec 2020:  AC for the day, and his Twitter Briefs. Lots of election stuff
07 Dec 2020: AC for the day, and his Twitter Briefs. Lots of election stuff
06 Dec 2020: AC for the day, and his Twitter Briefs. Lots of election stuff
Exp Tek- Fraction magic simulator. How they stole the votes
RSA- Governor Kemp's daughter's boyfriend dies in a fiery crash one day after he called for a signature audit and witnesses nearby allegedly heard multiple explosions that lasted until first responders arrived. Nuthin' 'spicious there. No-siree.
AZ – A sample of Arizona's mail in ballots found 11% of the accepted ballots did not match according to the Democrats' own expert.
Pol – intimidation – Daily Beast editor-at-large goes on warpath in chilling editorial directed against Trump supporters​.
PA Mi – Double Standards- Michigan and Pennsylvania Secretaries of State gave far left rock the vote activists access to sensitive data on all voters.
Exp – Scott Adams – The 2020 Election Was "Non-Transparent by Force" – It's Illegitimate
Pol – Michigan Secretary of State issues order to delete election data amid audit calls.
MI- Three Brave Black Female Republicans File Charges Against Corrupt Michigan Secretary of State — Facebook Censors Their Video.
CA- They don't care. Heartbreaking: Los Angeles Pub Owner's Cry for Help Goes Viral
GA – Composite Video of the Many Criminal Acts that Took Place In the Atlanta Arena on Election Night.
Exp – Totally believable Joe won. Trump Has 258,000 Watching His Rally — 258 Times More Viewers than Joe's Thanksgiving Speech – The Most Popular Democrat In History
Exp – Affidavit – Quote of the day—Mitchell Harrison.
05 Dec 202: AC for the day, and his Twitter Briefs. Lots of election stuff
04 Dec 202: AC for the day, and his Twitter Briefs. Lots of election stuff
03 Dec 202: AC for the day, and his Twitter Briefs. Lots of election stuff
02 Dec 2020: AC for the day, and his Twitter Briefs. Lots of election stuff
PA Tek – Smoking Gun: Dominion Transferring Vote Ratios between Precincts
Pol- Presidents speech and transcript.
MI GA PA AZ – Whistleblowers call into question over 1 million ballots…
Allegiance –Smartmatic prohibits political donations but 86 percent of staff gave to Dems…
NV- Clark County registrar reportedly locks building to avoid Trump's subpoena…
Gaslighting-Zucker demanded network talent portray Trump as crazy, erratic, using steroids…
MI-Republican white men pollwatchers were harassed.
MI-"I Can't Get a Job Any More Because Democrats Like to Ruin Your Life!" – GOP Witness GOES OFF at Michigan Hearing (VID)
01 Dec 2020: AC for the day, and his Twitter Briefs .
AZ –Trump Ballots Defaulted And Switched To Biden On Dominion System: Maricopa GOP Chairwoman
PA Legal- GOP Plaintiffs Ask SCOTUS To Block Pennsylvania Certification
Exp – Project Veritas barges in on a CNN conference call strategy session.
MI – Dr. Linda Lee Tarver Absolutely FLAMES the "Hot Mess" Voter Fraud in Michigan at Lansing Hearing .
GA – Georgia Elections Officials Were Reportedly Filmed Destroying Evidence
MI – Democrat Operatives in Michigan and Georgia Tampered with Military Ballots — Filled Out New Ones 100% MARKED FOR JOE BIDEN.
MO – Missouri Lawmaker Discovers Dominion Failed to Pay Missouri Taxes and Is Not Allowed to Operate in the State — But They Are Still Running Elections Here.
MI- Dominion-Trained IT Contractor Blows Up Michigan Hearing, 'They Were Re-Scanning, Counting Ballots 8 to 10 Times'
PA- Two Trailers Full of Completed Ballots Were Delivered to Pennsylvania from NY — One on November 4th!
Tek- Peter Navarro Retweets Evidence of CCP Takeover of Dominion Voting System
Tek- Statistician Reveals How Pennsylvania Democrats Used Fake Voter Registration "Birthdays" to Commit Voter Fraud
MI- 'Dominion alone responsible for injection or fabrication of 290,000 illegal votes in Michigan that must be disregarded' …
PA – Pennsylvania bombshell: Biden 99.4 percent v. Trump 0.6 percent…
MI – Rewind … Michigan State Senate committee holds hearing on election issues…
Tek – Dominion Contractor (Election Source): There is an avenue for fraud.(vid)
GA- Gwinnett, GA official just inadvertently admitted that their tech was circumventing election rules in a statement released in response to @codemonkey's video.
GA – The tabulation machines were online – using Office365! Totally secure.
Exp – What they think of us- Daily Beast Editor Calls For "Humiliation" and "Incarceration" For Trump Supporters.
Indiana – an arrest, 400 fraudulent ballots. It's starting.
WI Legal – TRUMP Files lawsuit against the WI ELECTIONS COMMISSION.
30 Nov 2020: AC for the day, and his Twitter Briefs from Trumps
MI – corruption at several levels – Michigan judge who tossed a pro-Trump voter fraud suit was caught releasing child molesters.
Exp (longish) – Skeptical of Voter Fraud in 2020? Here's Your Evidence.
Exp –Data scientist responds to his critics
AZ- Arizona State Rep. calls for colleagues to withhold the state's Electoral College votes…
AZ – "Sharpiegate" confirmed by expert witness for Trump campaign…
Tweet with interesting election stats – coat-tails
Another Tweet with interesting election stats.
AZ -Maricopa county did not validate signatures on 1.9 million mail in ballots.
AZ testimony- "They thought they were done [counting ballots] and then more truck loads of ballots were coming in. I'm like, 'how can you not know how many ballots are still out there?'
AZ hearing session closing remarks (~45 min long)
Exp – POTUS interview on Fox
Risk – Sidney Powell: Witness in Hospital After Beating.
MI – Michigan Montage: TCF Center Elections Observers Testify on the Massive Democrat Vote Fraud (VIDEO)
NV – Trump Says Clark County Registrar Joe Gloria Hiding From Subpoena Service.
Intimidation – Twitter Suspends Arizona GOP Witness Bobby Piton During His Blistering Testimony on Election Fraud.
AZ Exp vid- Dr. Shiva Presents That Completely Obliterates Biden Victory Narrative.
AZ – VIDEO: Anonymous Email from Arizona Tech Worker Alleges 35,000 Votes Were Given to Democrats in Pima County — Was Told During Sept. 10 Meeting.
Exp – Biden Won 477 Counties vs Obama Who Won 689 in 2012 – Yet Biden Magically Gained 13 Million More Votes Than Obama.
AZ- Crowd Gasps After AZ Witness Reveals How Easy it is to Hack Dominion Voting Machines, "Your Vote is Not as Secure as Your Venmo Account" (VIDEO).
AZ- Witness Army Col. Phil Waldron Confirms Experts Saw Dominion Communicating with Frankfurt on Election Day (VIDEO).
Vid of Dominion employee manipulating data vid 1
Vid of Dominion employee manipulating data vid 2
Closeup of above vids
Above links on YouTube.
Vid of whole AZ testimony session on a tweet
Tek – Similar "glitch" in Dominion vote machines in September.
Memory-holing collection by Joe– the media lies.
29 Nov 2020: AC for the day, and his Twitter Links.
Exp –Biden won a record low 16.7% of counties in the US but had the most votes of any presidential candidate ever – 10 million more than Obama.
Exp – Not fraud, but it explains why they talk like foreign propagandists-Harvard received over $1.1 billion in foreign funding since 2012, per Department of Education report.
28 Nov 2020: AC for the day, and his Twitter Links. Lots of election stuff
Great thread on background and historical information for EBF.
Five States Where Votes Were Switched Live on TV Away from President Trump to Biden.
Video Phone Call Recording to Chinese Mfgr Requesting a Order of Fake US 2020 Ballots.
THOUSANDS of Fake Votes Found at Wisconsin Recount in Dane County -Photos & Report.
PA Supreme Court says that constitutionality has a time limit.
27 Nov 2020: AC for the day, and his Twitter Links.

26 Nov 2020 : AC for the day, and his Twitter Links. Lots of election stuff.
Pol – Giuliani, Trump Pull Off 'One Hell Of A Hearing' On Pennsylvania Election Fraud.
AZ – Sidney Powell Drops a MOAB on Arizona Democrats
WI Legal – Conservative group says in court filing that they discovered 150,000 potentially fraudulent ballots in Wisconsin.
Tek – Big Tech expert says Google's 'manipulations' shifted 'at least six million votes' to Joe.
Legal – "Fraud": Sidney Powell "Releases Kraken" With Dual Lawsuits In Michigan, Georgia.
Tek – Dominion Employees Are Hiding at Home and Working Remotely
GA Legal – Georgia Lawsuit: Witness Testifies About Use of Different Paper For 'Counterfeit' Ballots, 'Watermark Solid Grey Instead of Transparent' – 100% For Joe Biden.
Fed Legal Corruption? Obama-era Hatchet-Man Appointed by DOJ to 'Prosecute' Election Crime: Conservatives Beware! Here comes the cover-up…
GA – Lin Wood Outed Mysterious Operative Gabe Sterling – Video Shows Him Admitting He Helped Set Up Drop Boxes and Promoted Far Left Activists as Absentee Ballot Counters.
Legal – Affidavit of James Ramland Jr.
Exp- Matt Braynard Outlines Results of Voter Integrity Project.
Legal – Exhibit 108. Knowingly
Legal – Exhibit 109. Deep state
Legal – Exhibit 106. Code monkey
Hate – Twitter bans Senator Doug Mastriano.
PA Legal – Judge Blocks Certification of Pennsylvania Election Results.
GA BS – "All 900 military ballots, 100%, went for Joe Biden." Obvious BS
Exp – Joe Biden, outperforming all election norms. Yeah, totally plausable.
25 Nov 2020: AC for the day, and his Twitter Links. Lots of election stuff.
Tek- Voter Integrity Project-Evidence of Thousands of Vote Fraud Issues
Fed – "VP-Elect" Harris still not resigned from her Senate seat.
Tek – Expert Says Google's 'Manipulations' Shifted 'at Least Six Million Votes' to Joe Biden.
23 Nov 2020:   AC for the day, and his Twitter Links. Lots of election stuff.
MI WI GA Exp – summary and analysis of the vote anomalies, long.
WI- Milwaukee Elections Commission Refuses to Allow Trump Reps to See Absentee Ballot Envelopes or Ballots Clearly.
ETF – New statistical analysis points to election fraud … 'extraordinarily anomalous vote updates demand immediate investigation' …
Legal – Pennsylvania, Michigan and Arizona Announce Election Fraud Hearings
MI – Voter Fraud Witness Statements.
Fed – The Thieves Who Stole Our Election Got Sloppy
GA Legal – Lin Wood Subpoenas GA Officials For Video Evidence.
Exp – double-dealing corrupt Republicans say they'll investigate.
RSA – Louder With Crowder – Michigan's IMPOSSIBLE 173K Anonymous Votes!?
PA ETF -video  Dominion Transferring Vote Ratios between Precincts in PA
RSA – What is Kraken?
23 Nov 2020:  AC for the day, and his Twitter Links.
MI – AG Calls For Criminal Charges Against GOP Certifiers Who Won't 'Fall In Line' I won't say that physiognomy is real, but…
22 Nov 2020: AC News links for the day,  Twitter links here.
Exp – Some simple questions journalists are not asking.
Pol – List of Republicans calling for Trump to concede.
Legal – The right in the Constitution, Milligan (1866).
GA Legal – Sidney Powell, KrakenOnSteroids.
Exp – MSNBC in 2019 Reports on HOW EASY IT IS to Hack Dominion Software and ES-S Voting Machines (VIDEO)
Mail – BREAKING REPORT: Largest Number of Cluster Votes In Wayne Co. MI Came From Psychiatric Hospital For Patients With Severe Mental Illnesses
Pol – FEC Chairman Trey Trainor Confirms There Was Election Fraud This Year – Points to Several Instances (VIDEO).
== interesting series of facts, from the comments here,
Dominion serves 40% of the US market. It is in 30 states.
– The state of Texas rejected the machines.
– Admiral Peter Neffenger is on Biden's transition team.
– Peter Neffenger was the President and on the board of Smartmatic
– Smartmatic entered into an agreement with Dominion in 2009
– Smartmatic counted American votes in Venezuela
– Smartmatic is connected to Philippine voter fraud
– Smartmatic is run by Lord Mark Malloch Brown who works for George Soros.
– Brown chairs the Boards of a number of non-profit boards including the Open Society Foundation,
– Brown chairs the Centre for Global Development.
– Open society of course is owned by George Soros
– Smartmatic partnered with DLA Piper Global
– Douglas C. Emhoff works at DLA Piper Global
– Douglass C. Emhoff is Kamala Harris's husband
– Guess who owns Dominion? Blum Capital Partners, L.P. ***
– Guess who is on the board for the company? Richard C. Blum. ***
– Richard C. Blum is husband to Dianne Feinstein. ***
– Nancy Pelosi's husband is also an investor
– An aide to Nancy Pelosi, Nadeam Elshami, was hired by the Dominion Voting Systems
– Dominion Voting Systems is literally listed on the Clinton Foundation website.
– "The DELIAN Project: Democracy through Technology" is the title of the page.
– Georgia Governor Kemp purchased machines after Texas and Florida rejected
– Dominion Voting has a lobbyist name Jared Thomas
– Jared Thomas was Governor Brian Kemp's chief of staff and press secretary from 2012 to 2015
– You must remember the Feinstein-Kavanaugh-Soros connections to understand the depth
– Debra Katz (Christine Ford's lawyer) worked for George-Soros at the Open Society Foundation.
– Debra Katz (Christine Ford's lawyer) also worked at Project on Government Oversight (POGO).
– POGO is funded by Soros's Open Society Foundation.
– POGO is the co-signer of the letter Diane Feinstein had on Kavanaugh.
– Kamala Harris did not prosecute OneWest Bank for their fraud
– Soros owned OneWest Bank.
– Now you know why a woman who placed 7th in her state is a VP candidate
*** These statements are in dispute. Feinstein has yet to deny them. In a financial disclosure, Feinstein has about 10 to 15 sub-companies. Who knows who owns what.
====
21 Nov 2020: AC Tweet Collection, and AC News for the day
Media hypocrisy – HARSH, BUT FAIR:
PA Legal- Judge Throws Out Trump Campaign Lawsuit, straight to SCOTUS
MI Legal-  AG Calls For Criminal Charges Against GOP Certifiers Who Won't 'Fall In Line'
ETF – Tracking down the Dominion team blurb at Vox Day
Dominion Fraud series at OANN pt 1, pt 2, pt 3
Evidence – Vid of votes decreasing for Trump and transferring to Biden on TV
20 Nov 2020: AC News stories, and  AC Tweet collection for the day
19 Nov 2020: AC for the day
18 Nov 2020: AC for the day, and his twitter links.
MI – Hate and intimidation – this is the left. "Make an example of them"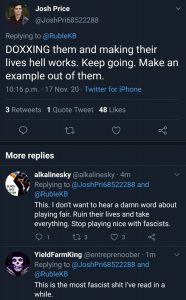 ETF – holly hell. No ballot PDF security at all. None. Total Shit-show.
MI – More threats, against kids of Rs. Nice guys the Dems hang with.
GA Legal –  GA Recount Witnesses Saw Trump Votes Counted for Biden: also swore to have seen suspiciously pristine, uncreased mail ballots, uniformly and perfectly filled out.
Exp – a pattern if great coat-tails for a "loser" 'Experts' Listed 27 House Races As Toss-Ups. Republicans Won All 27.
Fed – McInerny blows whistle on CIA meddling.
MI Legal – Wayne County election board Republicans rescind votes certifying results.
MI Legal – Rescind Cert, As above, different story, slightly different details.
PA PBF – Philadelphia reports it just found 8,000 newly counted ballots 2 weeks after election day and 85% went for Joe Biden. Bad at math? These guys can't even count.
PA VA ETF – "For the next 53 batches of votes counted every single vote batch had exactly a 50.05 to 49.95 victory margin for Biden…
GA – Georgia election monitor discovers counting error that gave over 9K votes to Biden…
GA – "There is no telling what we missed under these unreasonable restrictions … The miscounted batch had been signed off by two official counters" …
GA – investigate Fulton County's sloppiness … multiple chain of custody breaches…
GA – Missing Trump votes found in THIRD Georgia county…
Exp –"Drop and Roll" — How The 2020 Election Was Stolen From President Donald Trump
ETF – Giuliani Says Votes Were Sent Out Of Country & counted By Co from Venezuela (Vid)
WI – Only 12 Republican Workers Were Picked Out of 176 Workers in Wisconsin Recount!
Legal- Trump's EO from 2018 Re: Interference in US Elections By Foreign Entities Looks Relevant Today
ETF – Dominion Voting Machines ALL INCLUDE "Weighted Race Feature" Whose Only Purpose Is Cheat in Elections — We Contacted Dominion But Did Not Get a Response.
MI – "Like a Pack of Dogs!" – Detroit Fraud Witness describes election night chaos (VID)
GA Recount Monitors Describe 'Odd Batches of Ballots' That Stood Out – Pristine Sheets with Perfectly Marked Bubbles – 100% For Joe Biden
INterview –L Lin Wood on Howie Carr: "Joe Biden and the People Like Him Who Have Been Trying to Steal This Election – Will All Go to Jail"… Just words from a lawyer, but…
GA PA Exp – A very suspicious pattern in graphs.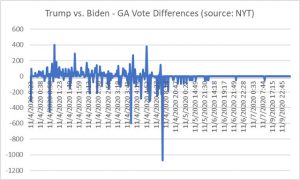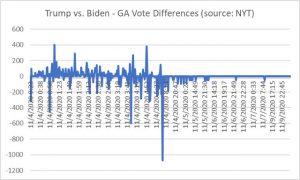 Wisconsin vote counts being reported look a little but fishy, eh?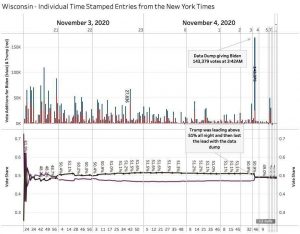 17 Nov 2020: AC for the day. Lots of fraud links. His twitter links.
THIS IS THE LEFT. Threats and intimidation.
VA too? While Virginia wasn't on anyone's fraud radar, running the numbers shows that it may nevertheless have been a fraud state.
RSA and info suppression –  Voter Fraud: The Crime That Must Not BE Mentioned.
CA PBF – Pair Charged With Voter Fraud Allegedly Submitted THOUSANDS of Fraudulent Applications on Behalf of Homeless People.
GA recount- Second Georgia County Finds Uncounted Ballots.
PA GA ETF – Smartmatic vote flips Pennsylvania and Georgia from Trump leads to Biden wins in increments of 6,000 and 4,800 votes, respectively. GRAPHS tell the story!
GA –  Georgia County Finds 2,600 Votes During Recount.
PA Exp intimidation  Lawyer at PA Secretary of State's Law Firm Harassed Trump Lawyer
GA  ANOTHER ERROR FOUND IN GA COUNTY … TRUMP NETS 449 EXTRA VOTES …
ETF – Whistleblower claims Dominion engineer told Antifa "Trump's not gonna win … I made f**king sure of that!"
ETF Tek – New statistical analysis suggests potential 'stuffing the tail' election fraud scheme similar to 2008 sub-prime mortgage meltdown…
Legal Fed ETF – Sidney Powell outlines affidavit showing purpose of SmartMatic Voting System to control elections…
GA recount – RNC monitor catches election worker in Georgia switching Trump votes …
ETF – Claim: Dominion switching 1 to 2 percent of Trump votes to Biden systematically…
ETF "coincidence" – Claim: "Across all primary states Clinton performed best in counties with voting machines that don't leave a paper trail" …
PA ETF – Stats are not proof, but enough red flags should mean investigation More extremely weird statistical anomalies in Pennsylvania (Twitter Thread)…
ETF  history – Flashback: They used "glitches" to kneecap Bernie…
ETF – design spec is not a glitch – Ex-military officer swears affidavit that Smartmatic built software for changing votes…
GA Legal – Georgia lawsuit claims Secretary of State signed illegal deal with Democrats…
NH recount – Recount shenanigans…
MI ETF – Dominion counting same ballots multiple times.
MI ETF – Elections Security Expert Finds Michigan Results a COMPLETE FRAUD
MI PA GA VA ETF Part 6:  Caught in SAME PATTERN! — Once Biden Gained Lead with Huge Vote Dumps, The Remainder of Votes All Possessed Same Biden to Trump Vote Ratio!
MI –  Democrat Wayne County Board Member of Canvassers Threatened Two Republican Members Who Refused to Certify Ballots (VIDEO).
MI – and then- Rs Cave in Wayne County, Michigan, Vote to Certify Election Results.
NV – 15,000 People Voted in Nevada and Another State
EXP – purely coincidental, I'm sure – Rebel News Reporter Escorted From Dominion Building After Discovering That They Share Office Floor With Soros-Linked Group.
16 Nov 2020: AC for the day.
15 Nov 2020: AC for the day, mostly fraud related stories
Legal Fed –  The election took place under an executive order about election interference.
MI PBF- Votes that were clearly marked for Kanye West were, instead, given to Joe Biden in Michigan, witnesses allege.
TX Legal – The Democrat Director of Texas state political strategy for the Joe Biden Presidential campaign has been arrested for electoral fraud.
Exp – Not fraud, just culture war – Bill Mahr gets it right for once. Silence is violence, looting isnt? Yeah, that's sane.
MI PBF – Whistleblower and Dominion Staffer Saw Detroit Voter Fraud.
ETF Fed – Huawei chips in the Dominion machines = problem for them.
VA – Multiple Reversals and Proportional Vote Entries In Virginia on Election Night after 11 PM Indicate Election Fraud Occurred in This State Too.
14 Nov 2020:
ETF Tek – Really great Dominion hardware security
PA Mail – the 40% mail ballot fraud.
ETF – Anti-Trump Dominion Voting Systems Security Chief Was Participating in Antifa Calls, Posted Antifa Manifesto Letter to Trump Online
Exp Anomaly –  Pollster: It's Curious How Biden Underperformed Hillary Clinton In Every City…Except These Four.
PA History – NYTimes Exposed "Massive Scheme" By Democrats In Pennsylvania's Election System… In 1994
CO Hate – The Big Lie- questioning Biden win is the same as Holocaust denial.
Leftwing violence and intimidation at MAGA march in DC.
Leftwing Violence and intimidation – murdering "fascists" is OK.
Rather than individually use most of these, I'll just add a link to Anonymous Conservative here, as most of the day's stories are about various bits of fraud. AC for 14Nov.
GA –  Recount theater The Georgia Recount May Be As Corrupt As The Election Itself.
Fed Legal –Sidney Powell Discusses the Ongoing Election Ballot Investigations.
WI AZ GA PA Tek – Fraud > margin of Biden "win".
RSA – German server raw data indicates 410 EC vote win? Obviously not confirmed.
GA RSA – Poll watcher reports Surge of 20,000 Mail-In-Votes For Biden In Early Hours On Nov 5, While Approx. 1,000 Votes For Trump Disappeared.
GA statistics – President-Only Ballots diff Trump and Biden Indicates Obvious Fraud.
12 Nov 2020:
NV Mail – Testing signature verification = failure
Fed ETF – Congressman: Foreign company had evidence of 'vote switching'
WI Legal – Wisconsin lawsuit seeks to toss 800,00 ballots.
Foreign Exp – Coup d'État in America: A Limey Viewpoint
GA Only One GOP Monitor Allowed for Each Ten Counting Tables in GA Recount (VIDEO)
MI – Former State Senator Witnessed Early Morning Ballot Dump of 61 Boxes at TCF Center (Video)
MI Legal – Judge In Crooked Wayne County, MI Ignores Horror Stories From Bullied GOP Poll Challengers…Refuses To Stop Certification of Election Results
PA Tek –Pennsylvania Results Show a Statistically Impossible Pattern Behind Biden's Steal!
RSA – Steve Cortes Discusses "The Election of Statistical Improbabilities" on Howie Carr.
ETF RSA – MIT PhD and Statistician Outlines Algorithmic Fingerprint Within Vote Data…
Hate Double Standard – Joy Reid and Adam Schiff warn of GOP 'tearing down our democracy' if they investigate the incoming POTUS' admin (video).
PA Legal – Supervisor Told Us 'The Only Political Mail That Will Be Delivered From Now On Will Be That of the 'Winner,' In This Case, Joe Biden' 
GA – Georgia Embarks On Largest Hand Re-Tally Of Ballots In US History
MI Hate – Michigan AG: Trump's Voter Fraud Lawsuits Are Racist
PA Verdict – Team Trump won big when a Pennsylvania judge issued a ruling saying that ballots cast without a proper ID must be set aside and not counted
PA Legal – Pennsylvania court says, Secretary of state lacked the authority to change the deadline 2 days before Election Day.
Pol Fed – Rep. Louie Gohmert says on Fox, "I believe the election was stolen, and anybody that says the allegations of fraud are unfounded is just either ignorant or so biased that they're trying to affect the outcome."
Gaslighting – CNN headline – "Dejected Trump continues to waffle over waging baseless election fight."
MI ETF Gaslighting- Media tries to claim the established "glitch" that transferred 6,000 Trump votes to Biden, was actually an innocent oversight which was picked up, and thus unimportant.
Gaslighting –CNN says Trump has already given up, and is looking at pardoning himself and others.
Gaslighting – after four years of pushing RUSSIAN INTERFERENCE!!! this – The Week kindly tells us President Trump knows he has lost the election, and this whole fight is just being put up as theater for his fans, and everybody agrees there is no such thing as voter fraud.
RSA Fed – Bryan Ware, the Assistant Director for Cybersecurity for the Department of Homeland Security's Cybersecurity and Infrastructure Security Agency (CISA), confirmed to Reuters that he had handed in his resignation on Thursday. Comped? sting? mole?
AZ Hate – Arizona Secretary of State in charge of certifying election results calls Trump voters 'neo-Nazis.'
KY ETF – The 2019 Gubernatorial election in Kentucky had anomalies very much like we see now, leading to speculation it may have been a test run of the fraud mechanisms used in the 2020 election.
ETF Fed – Many states contract with foreign companies, such as one in Barcelona, to receive their voting data in those foreign countries and tabulate it for them overseas, before reporting the results back to us
PA Legal – Tracy Beanz- Dem voters unknowingly submit affidavits describing how they broke election law as a counter to Trump's lawsuit, and in the process confirm his lawsuit with their stupidity. Swearing to illegal curing of ballots. These people are stupid.
RSA – nothing to see here, glowie – Eric Coomer (you can't make this up) was reportedly tracked by an Anon back to his history on a skinhead messageboard. Berkeley PhD —> Skinhead —> Antifa —> respected tech worker in a political field (from r/K)
ETF Hate – The man that is responsible for the strategy and security of Dominion Voting Systems, Eric Coomer, was posting the Antifa manifesto threatening bloody Civil War to President Trump on Facebook.
ETF Fed RSA – Maria Bartoromo on Parler says that she is being told there are massive national security issues regarding Dominion voting systems, with Venezuelan and Cuban involvement and it is going to explode soon.
PA Pol – Giuliani says, "About 650,000 ballots" in Pennsylvania cities were unlawfully cast.
PA Legal –  The complaint filed in federal court in Pennsylvania by the Trump campaign is a superb piece of legal craftsmanship, arguing that some of the state's actions, and particularly the exclusion of Republican poll-watchers during the counting of hundreds of thousands of mail-in ballots, violated federal constitutional requirements. 
Hate- Twitter nukes official ICE account after they arrest 113 child predators. Hmmm
Exp – Bill Whittle, Stolen Election Part 1
Hate – "You can't heal or reform the GOP who are now an extremist party. They have to be broken, burned down and rebuilt" Wajahat Ali
RSA – You are gaslighting yourself. A cynic looks as a graph.
RSA – Do fraud investigators think the number of red flags are worth investigating?
ETF Legal – Dominion software and bad ballots, "Hundreds of thousands of ballots are going to have to be discarded", only need "preponderance of evidence"
Pol – This might explain one of Trump's apparent typos.
PA Legal – Must-read Twitter thread on Trump's Pennsylvania legal brief…
WI MN PA MI – The Law is Clear: If An Election is Stolen, State Legislatures Can Restore The Will of The People
Fed RSA –Federal Agent who intimidated and coerced Pennsylvania USPS whistleblower is a Trump-hating Biden supporter.
GA RSA – New York Times columnist Thomas Friedman said Tuesday night on CNN's "Cuomo Prime Time" that Democrats should move to Georgia and register to vote in the two runoff U.S. Senate races in January.
AZ RSA –Republican Arizona Rep. Kelly Townsend pointed out there are 14,099 Federal-only voters in Maricopa County alone, who are unable to establish their US citizenship, but still can vote in Federal elections, and that is more than Biden's lead.
GA Georgia to undergo full by hand recount for Presidential race.
Fed RSA – FEC chairman Trey Trainor said, "I do believe that there is voter fraud taking place in these places. Otherwise they would allow the observers to go in."
ETF – Font Magic, I vs l An interesting series of tweets from Code Monkey
Legal – Trump Lawyer Jordan Sekulow tells Newsmax that Trump's legal team is going slowly now to assemble airtight cases, and that will take some time, but once it hits the courts, the courts will move quickly with it.
TX ETF – The election machine hacking may have its origins in a dry run in Texas, where the machines were shown to have shifted/erased votes in elections in red areas that were overtaken by unexplained blue waves that swept novice leftists into office, and FBI refused to investigate.
RSA – Fox News has given a directive to their daytime hosts to not have anyone from the Trump campaign or the White House legal team on.
RSA – Why did six battleground states, all but one with democrat governors, all pause counting on election night, and how was this coordinated?
Exp – Roger Stone collection of evidence and stories about fraud.
MI Legal – Michigan requests full audit of the vote.
ETF FED – Eric Coomer, Dominion exec, Antifa guy who promised Trump would not win.
MI ETF Mail Exp – Summary of all the election fraud in Michigan.
GA Tek – Georgia Whistleblower says that officials used ballot machines missing security seals in Gwinnett County.
AZ Pol Bias – Woman in charge of Arizona elections called Trump supporters 'Neo-Nazis' …
MI Pol – Michigan GOP state senators demand full audit of 2020 election results…
RSA – Results for CA21 have come to a halt as GOP candidate pulls ahead – elections dept suspends canvassing operations until Nov. 21, supposedly due to Covid.
MI PBF Legal – A new lawsuit says, out-of-state vehicles brought tens of thousands of unsealed ballots to Michigan, all for Democrats.
Fed Tek – Sidney Powell says, "There is tons of evidence that hundreds of thousands of ballots are going to have to be discarded."
Fed Tek – An unconfirmed account of what Hannity was supposed to have on his show
MI summary –Michigan Election Fraud: Evidence of Wolverine State Chicanery During America's 2020 Presidential Election.
Verdict PA – Huge Legal Victory for President Trump
ETF Tek – Guliani and Lou Dobbs outlining  Dominion problems.
Exp Tek Good single image comparison of fraudulent data vs legit.
ETF – WHISTLEBLOWERS Come Forward; Claim Their Software Changed 38 MILLION Votes.
Gaslighting – Covid and Communist Coercion info-graphic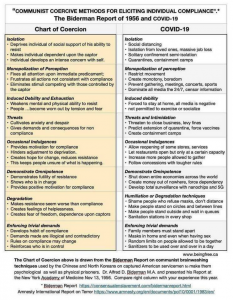 11 Nov 2020: Happy(?) Veterans Day.
Sketchy, but it's a story, so I'm adding a link to see what happens later. Breaking: Watermark on Ballots Reveals Alleged Massive Voter Fraud in 2020 Election.
Lawsuits during the 2020 Election: Sean Hannity
The FCC prohibits broadcasters from intentionally distorting the news. Could get interesting.
Eight states, 3.89M votes stolen. Might make a bit of difference. Links to Gateway Pundit.
List of switched or lost votes.
BILL WHITTLE: The Stolen Election, Part One — AMERICAN PRAVDA.
Honesty dies in silenced –  University gags professor from talking about research on links between universities and Chinese military. Why here? Chinese influence.
U.S. Attorney William M. McSwain Announces Charges and Guilty Plea of Former Philadelphia Judge of Elections Who Committed Election Fraud.
Video news story – spoiled ballots tossed rather than preserved.
News media denying what's presented to them –  Ronna McDaniel Presents 131 Affidavits, 2,800 Incident Reports of Alleged Voter Fraud in MI: Media Still Demands 'Evidence.'
Silencing the accusers – Michigan AG's #DetroitLeaks Takedown Demand, and Seditious Libel: The AG is threatening criminal prosecution because the videos allegedly contain "false and misleading information" about Michigan elections' vulnerability to fraud.
Oh, yeah, totally legit –  New Judicial Watch Study Finds 353 U.S. Counties in 29 States with Voter Registration Rates Exceeding 100%.
More voter intimidation than fraud – Welcome to The Trump Accountability Project.
Democrat Vote Fraud has been Rampant in Milwaukee for Decades.
Philadelphia Democratic official pleads guilty to stuffing ballot boxes for cash.
Wisconsin Clerks May Have Unlawfully Altered Thousands of Absentee Ballots.
Intimidation more than fraud – "F TRUMP" CHICAGO SAVAGES BRUTALLY BEAT WHITE WOMAN WHILE LIGHTING CAR ON FIRE WITH HUSBAND TRAPPED INSIDE…
GA takes it seriously – Georgia will hand audit every single presidential ballot … "audit, canvas and recount" all in one…
Dominion instruction manual shows how to hack its software … purge entire batches…
Kayleigh McEnany presents allegations of voter irregularities … 234 pages of signed and sworn affidavits…
Trump files emergency injunction in Michigan alleging several types of fraud…
Lack of observers, repeat scans, late ballots, duplicated ballots, "malfunctioning" Dominion tabulators…
Did Zuck give Dem political machines $300m in street money?
Silencing – Twitter nukes account that broke Maidengate…
If the 2020 Election Was Held in a Foreign Country, the State Department and Western Media Would Declare it "Fraudulent"
Intimidation and violence – California man drives car into Trump parade … two injured…
Pressure and lies – Democrats claim he has recanted his affidavit when questioned by investigators.
Deep state at work – But it gets better – James O'Keefe says he wired him up before Federal Agents arrived, and captured 2 hours of Cabal-Feds browbeating him and intimidating him into recanting, but he says he never recanted, and he still stands by his affidavit.
"Glitches" – Sky News host Paul Murray says there has been another software glitch found in the US where 2,500 votes in Michigan had been moved in favour of Joe Biden.
History – Pennsylvania auditors alerted officials of possible dead people and duplicate registrations on the state's voter rolls last year, but the warnings went unacknowledged.
A warning on Georgia – put all four of these statistical anomalies together, and "the result is a seemingly impossible statistical perfect storm."
A  examination of the serious voting anomalies in Pennsylvania.
"Almost" – More "glitches" in Pennsylvania – votes for Trump drop in three different counties simultaneously, almost as if it was coordinated.
Isn't that odd? In Georgia, among ballots that only voted for President and no other races, Biden won more than 99% of the vote.
Maidengate scandal breaks: Democrats allegedly hijacked registrations of women under their previous Maiden names.
Republicans say thousands in Wisconsin may have circumvented voter ID requirement.
Media interference – According to Ph.D. psychologist Robert Epstein, his team of Google monitors captured evidence that between Monday, October 26, 2020, and Thursday, October 29, 2020, Google sent vote reminders to liberal users but not to conservative users.
Woman alleged to have intimidated seniors to vote for Biden – criminal investigation opened.
New lawsuit in Michigan alleges "massive fraud' in election vote counting, and calls for new election in Wayne County.
Andrew Yang encourages Dems to exploit Georgia's weak residency rules to swing the Senate runoff to Jon Ossoff
Republicans in the Pennsylvania state legislature on Tuesday said they would take "extraordinary measures" to find out whether the election in their state was fair.
Trump will continue rallies, and plans to brandish the obituaries of people who voted.
Claimed reason for halting count… Open Records Request Finds NO INVOICES OR WORK ORDERS on Reported Election Day Water Main Break in Atlanta
Signed your ballot?Former NV AG Bombshell: AI and Computer Vision Experts Reveal Signature Verification Setting For 200K Ballots Was Manually Lowered to 40% 
WAYNE ROOT: Vegas Oddsmaker Says, "The Fix Was In, Trump was Robbed, This Election Was Stolen"
The crime AND the coverup – Milwaukee Trying to Cover Its Tracks After Initially Reporting Seven Wards Had More Votes than Registered Voters.
GA SoS -Will Conduct HAND RECOUNT and FULL AUDIT of Every Single Legal Vote (VIDEO).
MI WITNESS: Detroit Tabulation Machines were Illegally Connected to the Web (Video)
Sidney Powell: "There is tons of evidence that Hundreds of Thousands of ballots are going to have to be discarded" (Video).
True and accurate misinformation? Uhhhh…  NYT reporter calls 4 accurate articles 'right wing misinformation.' Gets called out, admits they're 'factually accurate' … but says they're still 'misinformation.'
Full admin access to voting machine in under 2 minutes. Totally secure, and the fact that Nancy Pelosi's chief of staff is CEO of Dominion Voting Systems and Diane Feinstein's husband is a major shareholder (they also have an executive who is a Chinese citizen) is purely coincidental….
Hammer and Scorecard caught live on CNN.
FEC Chairman – "yes, I think fraud is taking place…"
Some of the ballot machine fraud types, all used.
Dick Morris talking about the election. It was stolen (or at leas they tried).
Kayle McEnany- 234 pages of sworn affidavits under penalty of perjury alleging election irregularities from just ONE county in Michigan.
"Glitches" when the algo paused to "adjust" vote totals when threshold reached.
Two posts on 8kun and Gab about lady who was canceled on Hannity.
Gates-funded leftist group replaced veteran poll workers with high school students before election….
Detroit poll worker goes public … 'rescanning batches which resulted in ballots being counted 4-5 times' …
Data analyst claims to have incontrovertible evidence of Dominion machine hack…
Vote counts should not be decreasing.
Ronna McDaniel presents 131 affidavits … 2,800 incident reports of alleged voter fraud in Michigan…
Not a new thing – Jill Stein's 2016 recount was cut short in Wayne County … officials didn't have the ballots to prove numbers they entered…
Project Veritas Releases Full, Unedited, Audio of USPS Whistleblower Coercive Interrogation.
Kayleigh McEnany Provides Examples of Ballot Fraud in Wayne County Michigan….
Using software to switch vote counts, transfer them to Biden.
PedeInspector with various threads…..
All over the country list.
Gina Haspel blocks declassification of Russiagate intelligence…
Nevada whistleblower describes Biden van vote factory in signed affidavit…
"What we have learned so far from reading the Dominion Voting System manual" …
Federal lawsuit seeks to throw out 1.2M votes … flip Michigan to Trump…
Rudy: Throw out the 600K… (in Philly and Pitt)
Reminder – Gorsuch: "State legislatures bear primary responsibility for setting election rules … not federal judges, not state judges, not state governors…
Did ghost voters swing election?
10 Nov 2020: Ballot Printers and Voting Machines Left Unattended
Fraud, incompetence, or Repubs colluding with Dems deliberately?
Another Penn "glitch"; 32k votes all go one way….
Another System 'Glitch' Uncovered In Wisconsin – Swapped Votes.
Dominion, the company that makes vote-counting software, has MAJOR conflicts of interest.
The media narrative is being laughed at and bypassed.
Blitzer tries to keep the narrative going – it's just 1700 fraud votes..
Leaked Audio Records Federal Investigators Threatening, Intimidating Election-Fraud Whistleblowers. Nice guys, the Fed. Story has bonus boxes of Biden Ballots.
The Judge (Pirro) axed for admitting vote fraud exists.
The lying Press refuses to admit they totally blew their "polling" narrative.
More on trying to build the narrative and social pressure.
Poll workers filling out ballots on video. Yes, they are that stupid.
Giuliani talks about the six states in which the same ballot-fraud pattern happened.
Dominion Software vote fraud scandal.
Software switched votes around and lost votes.
USPS Whistleblower Richard Hopkins: "I DID NOT RECANT". Backup here.
Power Grab by Brennan, trying to get someone to invoke the 25th.
Hmmm. Push seniors with Covid into retirement homes, let them die, cremate them, then register them to vote? Seems like a stretch, but they are making the case.
Video of FBI pressuring whistleblower.
Republican poll watchers listed for "do not admit."
Not really fraud, but if Trump is so toxic, and Joe so great, why are the Republicans gaining seats in the house, and did not lose a single seat they are defending?
Not fraud, but a "what if the vote is tossed?"
Tens of thousands of ballots arrived before sent date in Pennsylvania…
Influencing rather than fraud: The U.S. government is waging infowar on U.S. citizens … Big Tech are their proxies…
A sober look at verifiable irregularities, fraud, and Dominion Voting Systems…
Claim: Millions of votes in all states switched from President Trump to Biden or were lost…
Vote tabulation for CA-21 halted as GOP candidate pulls ahead … elections dept. suspends canvassing until Nov. 21 "due to Covid" …
Why did six battleground states with Democrat governors all pause counting on election night?
Stolen seat? in Virginia – "found" 14k votes on a flash drive….
sort of related to the whole scene: Pedogate in Georgia … Dem candidate for Senate charged with obstructing police investigation into child abuse…
"Explosive claims of retaliation … Whistleblower has received a letter putting him on suspension without pay" …
Trump campaign: Evidence of fraud in Wisconsin…
Nevada poll worker alleges rampant electoral fraud for crucial battleground county in sworn affidavit…
Lincoln Project orders left-wing mob to harass and threaten Trump's legal team…
Claim: "Exposing the fraud means also exposing that inner city votes have been largely imaginary for decades" …
Detroit counters assigned fraudulent ballots to non-voters, ex-Michigan dept. AG alleges…
Tens of thousands of ballots dropped off at 3:30am in USPS boxes…
"Changing legal names and dates on ballots, ballot harvesting, voter intimidation and more" …
Zadrozny is the woman in charge of doxxing and destroying Trump supporters…
Virginia smells rotten…
"Maidengate" scandal exposed … women registered to vote twice under their maiden names…
"My mom literally got her vote stolen in Michigan" …
Researcher drops CSV database to test for Milwaukee discrepancies…
NEVADA WHISTLEBLOWER DESCRIBES BIDEN VAN VOTE FACTORY IN SIGNED AFFIDAVIT.
SWORN AFFIDAVITS FROM NEVADA & MICHIGAN DETAIL VOTER FRAUD
Another Election Computer Glitch in Michigan Reversed as Republican Declared Belated Winner.
Rudy Giuliani Outlines Current Status of Election Lawsuits – Ten Identified Locations All With Common and Manipulative Procedure.
Updated – DOJ Memo: Bill Barr Authorizes DOJ to Probe Election Fraud.
More on software – BREAKING EXCLUSIVE: Analysis of Election Night Data from All States Shows MILLIONS OF VOTES Either Switched from President Trump to Biden or Were Lost — Using Dominion and Other Systems.
Trump Campaign Senior Advisor Steve Cortes: The Statistical Case Against a Joe Biden Election Win.
Ballots found in trash after wedding reception.
No possibility of fraud here, is there? Pennsylvania's Allegheny County Board Of Elections Votes to Count Undated Ballots.
MIT PhD Analysis Reveals 138,000 Votes Switched from Trump to Biden in Michigan — MUST SEE VIDEO.
Analysis Finds Over 10,000 Dead People Returned Mail-In Ballots in Michigan.
Two massive Twitter threads contend that serious computer fraud two years ago in Texas, which turned strong red districts blue, was essentially a trial run by foreign actors, for what's been playing out across America in this election.
According to federal and local sources, the U.S. Attorney in Philadelphia has launched a criminal probe into multiple allegations of voter fraud here in the city, including Big Trial's own report about dead people voting, like Smokin' Joe Frazier.
Tech security company exposed critical vulnerabilities in election software, and was turned away by DHS and FBI multiple times. Why would that be?
42,000 votes in AZ were cast just for Biden with no other candidates marked.
Did 169,000 votes "jump" from Virginia to Wisconsin?
System 'glitch' also uncovered in Wisconsin, causing a reversal of 19,032 votes that removed the lead from Joe Biden.
Rudy Giuliani tells Maria Bartiromo this morning that as many as 900,000 invalid ballots were cast in Pennsylvania, and that the Trump campaign will reveal the full slate of evidence in court.
In one county in Georgia, there Are 132k change of address flags, where only 525k voted in that county.
Most of Biden's 221,000 vote margin gain in Georgia was in 3 counties that received $15 million from Zuckerberg-funded 'safe elections' project.
In 353 U.S. counties, there were 1.8 million more voters registered than eligible citizens.
Captured in real time, the moment in Virginia at 5:12 AM where they took 373,000 votes off the state totals.
Detroit election worker ordered to backdate ballots, and saw Democratic 'coaching' at the polls, affidavit says.
A Nevada whistleblower listed a series of instances of nefarious behavior they witnessed in the days leading up to the election, including poll workers processing illegitimate ballots as well as non-poll workers forming a "human wall" near a Biden/Harris van to block the view of individuals purportedly filling out what the whistleblower believes to have been ballots.
Barr hands prosecutors the authority to investigate voter fraud claims.
Not quite sure what this means. DOJ official steps down over Barr's voter fraud investigation memo.
The Dominion Voting Systems, whose machine "glitched" in favor of Joe Biden (and was used in 29 states), partnered up with Clinton Global Initiative, and had on staff former employees of both Clinton Growth Initiative and Clinton Cash Cow TENEO.
Lindsey Graham highlights possible ballot harvesting in Pennsylvania involving 25,000 nursing home residents.
Voting machines used in Michigan's Wayne County appeared to have been connected to the internet, according to a sworn affidavit signed by a poll watcher.
Narrative building – Fox News Neil Cavuto cuts away from Kayleigh McEnany presser on alleged voter fraud, saying, "I can't in good countenance continue showing you this."
The Podesta emails showed Clinton's people thought Obama's forces had engaged in rampant voter fraud in Colorado.
Be interesting to watch – Orange County has announced that it will conduct a voluntary audit of its 2020 presidential election ballots.
PA House GOP members tomorrow will "call for a legislative-led audit of the 2020 election and demand election results not be certified, nor electors be seated, until the audit is complete," per news release.
Whistleblower in Detroit on the process and Dominion tabulation machines.
Not fraud, but a map of the Portland Antifa who sometimes provide muscle for fraud.
Wisconsin Clerks May Have Unlawfully Altered Thousands of Absentee Ballots.
Why is it all the "glitches" go one way? Let's Be Clear About That Michigan "Computer Glitch".
09 Nov 2020: No possible conflict of interest here, prole, move along – Nancy Pelosi's Chief of Staff Is Chief Executive and Feinstein's Husband a Major Shareholder at Dominion Ballot Counting Systems.
Meanwhile – Republicans expand probe into Dominion Voting Systems after Michigan counting glitch.
Now, this is a defense lawyer speaking, but he tends to be pretty on-point – Giuliani says, "There is strong evidence that this was an election that in at least 3 or 4 states, & possibly 10, it was stolen."
Anyone see the problem with the timing, here? lark County, Nevada's Registrar of Voters, Joe Gloria, said his office received reports of voter fraud, and his office plans to launch an investigation but it won't happen until after the election.
Either straight up fraud, or room-temp IQ from Nome- In a tight race in Virginia, officials miraculously find 15,000 mostly Dem votes on a USB flash drive.
Mass movement = war (invasion and replacement) – Biden administration would provide citizenship to 500,000 Indians.
More from NV – An affidavit from a Nevada whistleblower alleges that election supervisors Clark County, which accounts for the vast majority of voters in the state, counted mail-in ballots despite concerns about whether signatures were valid.
Of course copying could never make changes, right? A glitch in a heavily Republican county means pairs of election workers will have to sit down, and one will read out each ballot while the other records the votes on a new ballot.
I'm sure they are unhackable, right? Experts find nearly three dozen U.S. voting systems connected to internet.
Technology – is there anything it can't do? The computer systems responsible for flipping Trump votes is actually related to the same system flipping votes in Venezuela.
Bias much? Georgia officials caught handing over ballots to far left groups linked to Hillary Clinton to ballot harvest for Joe Biden.
I'm disgusted that at one point I voted for him. He wan't better than O, just a different flavor of corrupt – Romney calls for nation to 'get behind' Biden.
Mitt Romney says there was no widespread election fraud.
Nothing like calming words, right? Pelosi calls Trump a 'domestic enemy' for questioning the election results. And from the media – Washington Post columnist Jennifer Rubin says 'We have to collectively burn down the Republican party.'
I like AC's comment – King knows… Stephen King Tweets : "You lost, you miserable self-entitled infantile f*****. Concede and get the hell out," He's terrified.
I wonder why? Searches online for 'election fraud punishment' surged in MI, PA And AZ before the election.
Dogs are people, too, apparently.
He knew too much – Oregon's elections director was abruptly fired in a text message by the secretary of state after he pointed out serious issues with the state's aging and vulnerable technology for running elections.
Third World Stuff – affidavit from Michigan.
Detroit election commission – much worse than expected!
Detroit city employee asked to backdate ballots…
Numbers don't add up in Virginia… "Leveling" turnout by district
Nevada shenanigans…
Whistleblower with elections department claims Nevada poll workers fabricated proof of residence data for illegal voters…
Pennsylvania House Republicans demand election results not be certified, nor electors be seated, until legislative-led audit is complete…
Pennsylvania Supreme Court to hear challenge over 800K potentially invalid votes…
Nevada poll workers attest to outright fraud…
"Nevada is turning out to be a cesspool of Fake Votes" …
The moment when Michigan counted 149,772 votes in 5 seconds and less than 6,000 of them were for Trump…
Single-issue voters, I guess – Sidney Powell: "We have identified 450,000 ballots in key states that magically only voted for Biden" …
Not fraud, but Worst Racist Ever!
Could be just a coincidence – Of the top ten most historically accurate bellwether counties this election, Trump won 9 of them (including the top 5) by an average of 55-43.
Silent Dem voters in Penn? There are at least 21,000 dead people on the state of Pennsylvania's voter rolls, according to an amended lawsuit.
There is undeniable mathematical evidence the election is being stolen.
Cannot confirm or deny, but it explains the visible facts – A Navy Vet alleges that Trump and his team were watching the election fraud happen in real time from a SCIF of the kind used by the Army intelligence cybersecurity division, and this whole thing was a sting.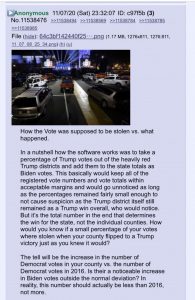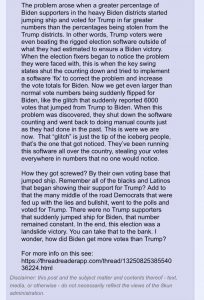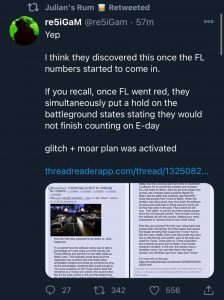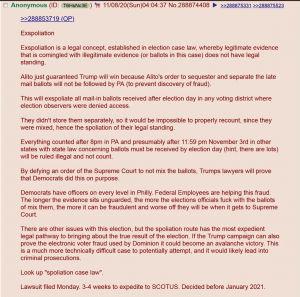 "Somebody is up to no good in these nursing homes" … 25K absentee ballots requested at one time…
Gateway Pundit claims to have found glitch that could flip Wisconsin…
Comprehensive list of evidence of voter fraud … share this one with everyone you know…
Tucker Carlson segment on fraud in various places.
Michigan attorney general demands journalist erase video showing voter fraud training … or face criminal prosecution…
08 Nov 2020: Scorecard and Hammer used in 2012 by Biden?
Nothing strange about dropping off 5 dozen boxes of ballots at oh-dark-thirty, eh?
All of the media goes all in, declaring Biden the winner.
Jeb Bush joins the media to congratulate Biden, and calls him "President-Elect."
Mexican President says it would be imprudent to congratulate Biden yet.
Not fraud, just the "mask slipping further." Fox News Cancels Justice with Judge Jeanine, just as she was about to do a segment on the voter fraud.
Two Georgia counties using the same electronic voting software as a Michigan county that experienced a glitch have also reported encountering glitches during the 2020 election.
Wisconsin clerks may have unlawfully altered thousands of absentee ballots.
Project Veritas journalists found eight-to-10 spoiled ballots Thursday set outside a voting site here in trash bags in violation of Pennsylvania and federal law.
RNC Chair says Detroit election worker says "all election workers" were reportedly told to backdate ballots.
Over 10,000 dead citizens requested ballots in the Detroit area.
Smokin' Joe Frazier is among 22 dead people who still vote in Philly.
150,000 Michigan presidential 'voters' didn't vote for Senate.
Continued statistical analysis shows wild numbers of people  (Current numbers – Pennsylvania — 98,000 Georgia — 80-90,000 Arizona — 69- 115,000 Wisconsin — 62,836) who voted only for Joe Biden and didn't vote down the ticket.
A social worker in Mexia, Texas has been charged with 134 felony counts involving election fraud, according to Attorney General Ken Paxton.
Not fraud, shows state of mind: Slate calls for Stephen Miller to be imprisoned.
Deep State – I remember when Dick Chaney was the left's enemy #1, even ahead of W- They are saying Biden is telling people he is going to bring in his old friend Dick Cheney in to advise him on foreign policy. Duh fuq?
Dems plot mass migration to Georgia to take advantage of runoff election loophole.
Two top GOP Senators sent a letter to Google CEO Sundar Pichai, questioning that despite its promises to stay neutral the company sent voting reminders to only "liberal field agents" but not to conservatives.
Potempkin rally for Joe.
Frontpgemag points out James O'Keefe's videos of how ballots were harvested for money in Ilhan Omar's community should be evidence enough to throw out all mail-in ballots.
Nearly half a million likely fraudulent Biden ballots found in key states.
Rudy Giuliani Outlines Upcoming Election Lawsuits.
Newt Gingrich: "My Hope Is That President Trump Will Lead The Millions of Americans Who Understand Exactly What is Going On".
Taunting: Rudy Giuliani Holds a Press Conference in Philadelphia… in front of Four Seasons… landscaping, a likely front for money laundering. 🙂 They know.
Michigan GOP Identifies Software "Glitch" in Voting System – One County Had 6,000 Wrongly Assigned Biden Votes Corrected To Trump When Fixed. That same software is used in many places.
AOC making threats.
How Might Election Fraud Get Litigated? A look at some legal issues.
Interesting signs of impending action. Clearing the decks and locking things down.
Some time series data analysis on vote returns from the chans.
Trump team says they've identified 9,000 ballots in Nevada that were cast by people who did not live in the state.
Claim – Just under 10k dead Michiganders voted.
Antrim County vote still all screwed up after SNAFU; county actually still R though initial numbers showed Biden 3k votes ahead.
Wagon-loads of ballots. Yeah, totally legit. (video)
Minnesota Democrat alleges outright vote buying … 'worse than Somalia' …
Norm Coleman: Democrats created process 'ripe for undermining confidence' …
Rod Blagojevich: Dems stealing elections a 'time-honored tradition'
Statistical anomalies suggest voter fraud in Milwaukee wards…
132,000 Ballots in Fulton County, GA Have Been Identified Which Are Likely Ineligible.
Trump Campaign Witness Saw Biden-Harris Van Stop at Las Vegas, Nevada Center and Unload and Fill In Boxes of Ballots (VIDEO).
Dem Party Worker, Detroit Resident, Brags "I work for Wayne Co, MI and I threw out every Trump ballot I saw. Tens of thousands of them and so did all of my co-workers"
2020Poll Challenger Claims Detroit Poll Workers Tasked with Duplicating Ballots Were Functionally Illiterate.
Nevada observers not allowed to observe.
Might be nothing. Might be important. Stay Frosty. Incoming false flag and actions?
Description of the Benford's Law problem in Joe's votes.
06 Nov 2020: Been busy, a lot of these are just copy-pasted from Treehouse today.
Vid of a guy discussing dead people voting in Michigan. I like Dogs!
3K vote fraud cases criminal referral to Barr.
Compromised software used in all swing state vote counting machines to count votes, used some Chinese components.
Ballot count watcher describes at least 130,000 ballots all for Biden, arriving in three vehicles in Detroit in the dead of night.
Biden has many more votes than Democrat senators in swing states..
A list of 14+ thousand dead people who voted in Detroit..
PA Dem officials are reportedly assuring Biden he'll win the state despite a 6-figure Trump lead.
Democrat PA officials are 'privately' feeding the Biden campaign his potential margin of victory.
Not fraud per se, just silencing voices on one side: Twitter has confirmed that President Donald Trump will no longer receive "special protections" beginning on January 20th at 12:01 p.m. if he does not win the election. .
Project Veritas on Thursday released undercover video of a Nevada USPS carrier pledging voter fraud to remove President Trump from office.
Registered democrat and poll watcher details corruption at Philly vote counting center, says, 'I can't believe what I'm seeing – This is a coup.'
Poll watcher in Michigan kicked out, after they snap a photo showing that seven voters had birthdays of Jan 1, 1900. 
Philadelphia defying court-ordered election observation. They just ignore a court order to admit Trump's people to observe the counting.
New York postal worker arrested at border with mail in his trunk, including 3 ballots.
A Nevada official announced Thursday that the state will accept mail-in ballots postmarked by Nov. 3 until Tuesday, Nov. 10.
ABC, CBS, and NBC cut away from President Trump's live remarks on the election.
Very suspicious difference in pattern.
Interesting. Not just chasing paper-pushers – The Justice Department has approved the use of armed agents in order to investigate voter fraud claims, according to a report published by the New York Times.
An interesting article on the known safety features of ballots
RNC, freed from consent-decree limits by Trump, goes on a ballot security offensive.
Trump campaign wins major victory in Pennsylvania voter ID case.
In Wconsin,  Democrats needed to inject votes until there was an 89% state turnout to nullify Trump's landslide and steal the election.
USPS Whistle-blower. backdating ballots.
These next two pictures shows a ballot counter in Atlanta got a special shipment from a shipping carrier which only accepts packages for shipment in China, so the Chinese are shipping in ballots.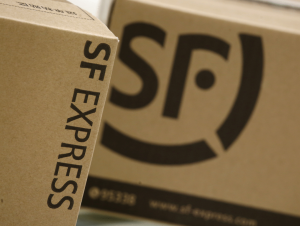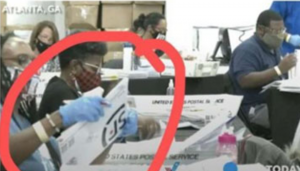 "Lost" Trump Ballots – fraud or total incompetence?
QFS Blockchain was used, reportedly. Short video.
When are Biden votes injected into the system? Look at the graph!
04 Nov 2020: It's behind us, sort of. Here's a few items.
Voting machine problems continue to plague some pro-Trump districts across the country, with the Daily Caller reporting major issues in one Georgia county that the President won by 24% in 2016..
'The steal is on' in Pennsylvania, as poll watchers are denied access, and there is illegal campaigning at polling locations..
1 machine is down, the other is locked in Brooklyn district that voted overwhelmingly for Donald Trump in 2016..
Pro-Trump York County is already out of ballots — a full 90 minutes before the polls close..
2 PA Trump strongholds experiencing faulty voting machines..
Twitter censors PA GOP account alleging irregular activity at the polls..
No chance of midnight tampering, eh? Philadelphia will halt its mail-in vote count for the night..
Prepping for riots: Stacks of bricks found in cities nationwide ahead of election results..
Nothing suspicious here – Voter Fraud in Wisconsin – Massive Dump of Over 100,000 Ballots for Biden All the Sudden Appear Overnight".
Michigan says "hold my beer": Voter Fraud in Michigan – Massive Dump of Over 200,000 Ballots for Biden All the Sudden Appear Overnight".
Force once Detroit is the fraud piker: "TENS OF THOUSANDS OF BALLOTS Dropped Off in USPS Boxes at Detroit Absentee Ballot Processing Center at 3:30 AM After Election".
Another item in TX. Not the game they should be getting in on.
Not fraud, but it is news bias:  Crickets Over Republicans Adding 11 New Female Representatives in the House..
Narrative pushing by pollsters, who are either incompetent (and always erring in the same direction) or are deliberately skewing them:
The dead Betty Mulder voting, of course .
Back-dating mail-in ballots in Michigan (James O'Keefe). More here (zerohedge).
Blocking the counting poll-watchers windows in Detroit.
Nothing says "honesty" like ejecting poll workers and out-of-state vans delivering 35k ballots.
Video of Viva Frei discussing fraud with a lawyer Barns. short version: all the signs of fraud.
Late collected ballots.
Michigan, Wisconsin Elections Officials Refuse To Explain Sudden Biden Vote Influx,
TENS OF THOUSANDS OF BALLOTS Dropped Off in USPS Boxes at Detroit Absentee Ballot Processing Center at 3:30 AM After Election.
From Michigan Poll Watcher on the Scene: Republicans Allegedly Witnessed Suspicious Vehicles Dropping Off Ballots.
Quite the trick, voting when you were born before the civil war.
Giuliani on the fraud warpath.
Wow, WI, turning out 202% in one district! Impressive.
01 Nov 2020: Registering recently dead democrats. intimidation, not fraud: The National Guard has deployed across 12 states, and it ain't because of Trump voters. More corruption than fraud, but here you go: Hunter Biden, in his own words, describes trading access to the White House for Burisma funding. Mexican influence? Mexico's federal Interior Department issued a stern rebuke Friday to the governor of the western state of Michoacan for posting a video urging migrants living in the United States to vote against President Donald Trump. And more sketchy electioneering: Facebook leak reveals policies on restricting New York Post's Biden story. More general corruption in leadership than direct vote fraud: 60 Minutes on how Pelosi corruptly exploits her position to generate cash in corrupt stock deals, which she will not allow to be made illegal. Changing the rules mid-stream, guys? Judge Karen Geivers ruled Tuesday to extend the recount deadline for Palm Beach County until November 20 in Florida's U.S. Senate race, according to reports. Can't stop the signal: The Post gained about 190,000 Twitter followers while it was locked out of its primary account by the social media giant, data shows. A little poll data: Trump is ahead in all the swing states.. Who rallies at Trump rallies? Everyone: President Trump's rallies are filled with Democrats and non-Republicans..
28 Oct 2020: Maybe nothing, maybe huge. Why are they not there? 42% Haven't been returned, or were disappeared in the Post Office?
NOt so much the vote, but the extortion and threats after…. "sure would be a shame if something happened to your city, here, ya'know?" Preparations are beginning across the country to deal with post-election violence.
Not so much "fraud" as bias: YouTube is suppressing videos about Joe, Hunter, and Ukraine. And this: Twitter's continued ban on The Post has no rhyme or reason. Pretty alarming rhetoric. Certainly not 'abiding by the election outcome." Nancy Pelosi says Congress will have to 'reverse the damage' of a 'usurped' Supreme Court seat.  Meanwhile, Soros tries to buy seats: George Soros pumps millions into black & latino voter efforts in key states.
27 Oct 2020: Sorry for not adding much. many stories about it. Just been to lazy.
Ballot harvesting sting video by Project Veritas.
Column on epidemic ballot frud.
How to handle destroyed ballots?  Ballot Collection Box Targeted By Arsonist, FBI Investigating.
Ballot fraud attempt sidestepped, at least in part: SCOTUS Upholds Decision to Block Wisconsin Mail-In Ballot Extension.
Biden openly stating they have the most extensive vote fraud system ever.
Not so much fraud as chaos caused by our lame-ass vote-early system. Change my vote!
Need better vote verification: Trump campaign sues in Nevada to stop Vegas-area vote count after problems with signature checks.
Such a charming candidate: Biden calls Pennsylvania voters who do not support him 'chumps,' while stumping..
And the whole purpose of the signature is…. what? Pennsylvania Supreme Court says there should be to signature verification of ballots, even if the signatures clearly don't match, to make sure every vote is counted.
Lots more over the last week, won't go digging through my digital footsteps. I'll just try to keep up better / daily.
18 Oct 2020: Sorry I've been neglecting this page so much. Many stories recently, and also rather busy personally. Here are a few of them from the last week or so.
Bags Full Of Stolen Ballots Found In Seattle Suburb
Los Angeles county voters receive ballots with no way to vote for President Trump.
Gretchen Whitmer vetoed bills that would have made it a felony to knowingly try to apply for multiple absentee ballots or to fill out an application for others without their consent.
At least 1,400 voters in Virginia received 'duplicate absentee ballots.'
Ballots stolen from mailboxes, discarded on roadsides in Sammamish, WA (near Seattle).
A video on how according to vote-by-mail data and a new non-big media poll, Donald Trump is in phenomenal shape in Arizona.
Lots of extra ballots to one house in Nevada.
Are mail-in ballots getting "lost" in the mail?
Absentee ballots dumped.
370K Pennsylvania mail-in ballot applications rejected. 90% of them were rejected for being duplicates.
Utah man concerned about finding voters ballots in dumpster.
A person found a pile of discarded USPS mail in Kentucky, including 112 absentee ballots for the upcoming election.
In Utah, a county mails over 13,000 ballots with a missing signature line.
Thousands of Pennsylvania voters sent wrong mail-in ballots.
Judicial Watch announced today that a September 2020 study revealed that 353 U.S. counties had 1.8 million more registered voters than eligible voting-age citizens.
Can you say "extortion?" Twitter Won't Unlock NY Post Account Until Hunter Biden Posts Deleted.
Lots more of this sort of thing, showing varying degrees of screw-ups, incompetence, fraud, inconsistency, unreliability, and a general sense of "it's not possible for the final official tally to be accurate, what with all the morons, goof-balls, fraud, compromised voting machines and systems, pedo-crats,  corrupt-o-crats and criminals involved. At best, it's an approximation of the general will of the people, but the margin of error (of all sorts) will likely be larger than the margin of victory in a great many elections.
03 Oct 2020: Rochester, NY Mayor (Lovely Warren – D) Indicted In Felony Campaign Finance Scandal. Dead people can vote by mail, now; Dem, of course. Maryland County election board warns voters of unlawful ballot collectors…
Just to see if anyone is paying attention, just because 2020. It wasn't a "sharknado," it was a frikkin' shark-hurricane: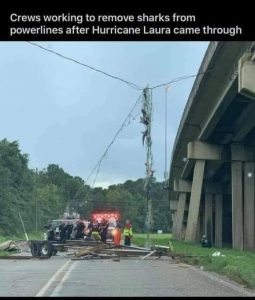 02 Oct 2020:  Some New Jersey residents have received ballots meant for people who have moved out of the state and for deceased voters. More crap here, too – DC voters are being sent mail-in ballots for ex-residents. An effort to block ballot fraud – Legislation introduced by Rick Scott prohibits mail-in ballots from being counted more than 24 hours after election day. NOt vote fraud, but an interesting data-point 60% of attendees of Trump's Minnesota rally were not Republicans. I would not have thought it was so many, but it bode
01 Oct 2020: Might mean something, might not. But it absolutely illustrates the need for an auditable and verifiable paper trail and chain of custody for ballots- Memory sticks used to program Philly's voting machines were stolen. Then in MO- 1,200 Missouri absentee ballots in just one county were lost in the mail. Back in NY – NY Governor Cuomo trying to stop NYC Board of Elections from resending 100,000 botched ballots, because he wants a different, unspecified approach. Voter rolls are questionable, and people are asking questions.
30 Sep 2020: Even when there isn't certain fraud, government incompetence is rife – Nearly 100,000 Brooklyn voters got the wrong ballot return envelopes. Fraud or criminal incompetence are the only options, and the election is on the line. Some people in the system are honest, or at least trying to halt the most egregious fraud: Ex-Michigan officials sue to stop absentee ballots from being counted if they arrive after election day. More on Omar's mess – Omar connected harvester seen exchanging $200 for a general election ballot, saying, "We don't care illegal.". Minneapolis police are investigating reports that Ilhan Omar's supporters 'illegally harvested ballots in Minnesota.' Don't know where the investigation will go. Considering it's on video, it had BETTER go somewhere. Meanwhile, in NYC – New York City voters are wrongly receiving mail-in ballots marked for military use. Very poor official response to Omar- Minnesota Rep., seeing Ilhan Omar's voter fraud went to the FBI but contacted Project Veritas when the FBI ignored her.  Some retrospective items – New book by John Fund explores Voter fraud, and shows how Al Franken was likely elected just off voter fraud, and he was the deciding vote on Obamacare and Flashback – WaPo – 6.4 percent of non-citizens voted in 2008, and Obama won more than 80 percent of the votes of non-citizens.
28 Sep 2020: Obviously they are committed to total vote integrity – Democrat Colorado Secretary of State Jena Griswold sent a postcard to non-citizens and the dead encouraging them to register to vote so they can cast ballots in November.Then in Texas – BIDEN'S TEXAS POLITICAL DIRECTOR IMPLICATED IN MASSIVE MAIL-IN BALLOT HARVESTING SCHEME IN HARRIS COUNTY..
27 Sep 2020: If it was a mistake, why fire them?  Pennsylvania says  a temporary worker accidentally threw out those Trump-voting ballots by mistake. How the USPS can help the fraud: A Democrat operative says the United States Postal Service (USPS) workers who despise President Trump will sometimes help election fraudsters by throwing in the garbage mail-in ballots from Republican-heavy neighborhoods. Meanwhile, in Michigan, a Democrat clerk is facing trial for six felony counts of vote fraud for falsifying absentee ballots. ILHAN OMAR CONNECTED TO ILLEGAL BALLOT HARVESTING SCHEME. Shocked, I'm sure. Totally. The Project Veritas sting report and video, via the Conservative Treehouse.
25 Sep 2020: Thousands of (old?) ballots found in dumpster in CA. Even when there is not fraud, there is (at best) incompetence In Virginia, 1,000+ voters receive two absentee ballots., and 5% rejection rate for black mail-in ballots in NC.
24 Sep 2020: it begins. Military Ballots Found in the Trash in Pennsylvania, All Were Trump Votes. More were discovered in a ditch in Wisconsin. Also A Gregg County Texas commissioner & 3 others were arrested today on election fraud charges.This year will see EPIC vote fraud. However, I think that 310 EC votes for trump is the floor, and 350 is doable. Check here at "Swing The Election" for a cool tool to make projections with.
19 Sep 2020:  Michigan judge rules ballots received up to 14 days after the election must be counted, and allows ballot harvesting without any ID or background check.. A possible bit of good action – Rep. Tulsi Gabbard (D-HI) has introduced a plan to effectively ban ballot harvesting ahead of the 2020 presidential election. Not directly about fraud, but revealing that more people are aware of vote-fraud potential when using all mail-in balloting AP/NORC poll shows Americans are losing enthusiasm for voting by mail..
18 Sept 2020: Nope, no possibility of fraud with any of these developments. Pennsylvania Supreme Court allows mail-in ballots to be counted after election day without any evidence of a postmark. And None of Pennsylvania's counties can send out ballots to voters Monday, the first day the state allows counties to do so, because  it has not finalized its ballot less than eight weeks before Election Day due to lawsuits and other issues. and Democrat Michigan Secretary of State misprints Trump ticket on ballots for our troops. and Some North Carolina voters mistakenly get 2 absentee ballots. and A Soros-backed coalition of left-wing groups is preparing for post-election day chaos, promising that, 'We're going to fight like hell' unless President Trump concedes. in a rare win: Judge rules the Oregon Republican party will be allowed to include its policy statements in the state's voters' pamphlet after state officials initially said the party had missed the deadline by 29 seconds. 
09 Sep 2020: Casting multiple ballots in GA.
06 Sept 2020: 2016 wasn't a perfectly clean election. Nineteen foreign nationals face federal charges in U.S. District Court for the Middle District of North Carolina for illegally voting in the 2016 federal elections, according to federal charges publicly announced on Wednesday. One of many frauds, just one that got caught. Then, of course, there is general USPS competence: Surveillance video shows bags of USPS mail being dumped in Glendale spa parking lot.
03 Sep 2020: Massachusetts 4th Congressional District: Thousands of ballots found in Franklin, Jesse Mermell's campaign solicits recount signatures. Two Dems squaring off? New ballots might be found for months….
30 Aug 2020: Confessions of a mail-in-vote fraudster.
26 Aug 2020: Hmmmm. I wonder why this might be? Nevada Democrat Governor Steve Sisolak rejected his Republican Secretary of State's request to require 'ballot harvesters' register with her office.I wonder what the odds are that ballot-harvesters have a certain political bent?
24 Aug 2020: Michigan has an 18.5% fraud rate in absentee ballots. Not looking like the election will go down without a hitch.
23 Aug 2020: More than 550,000 primary absentee ballots were rejected in 2020, far outpacing 2016. Yeah, that's not a good look for the "all vote-by maul" crowd. Also, Canvassers demand answers after 72% of Detroit's absentee ballot counts were off. Other than fail, can Detroit get anything right? And of course, you can bet these guys are going to be totally above-board: California pays leftist activists to manage 'non-partisan' mail-in ballots.
22 Aug 2020: Dems talk a lot about voter suppression. Dems get Green Party kicked off ballot after pressuring petition-signers; 'voter suppression' alleged.They should know. Can you say vote fraud enablement: Arizona wants to tell people they can just cross out wrong votes on their ballots, and cast the vote they want. No way THAT could go wrong, eh?
21 Aug 2020: Mail-in ballot election invalidated.  Also, percentage of Detroit's precincts with out-of-balance totals was 46%, according to the county data. Yeah, let's NOT vote-by-mail.
16 Aug 2020: At least 847 dead people tried to vote in Michigan's August primary. But hey, the vote is totally secure!
10 Aug 2020: This happens so often, it's either incompetence so massive they should all be fired permanently, or it's intentional and they should all be incarcerated for a decade or two: Half a million incorrect absentee ballot applications sent across Virginia, including to dead people.
09 Aug 2020: Half a million incorrect absentee ballot applications sent across Virginia, including to dead people. What could possibly go wrong? At the same time: As our election approaches, we hear fake driver's licenses are flooding into our country from all over the world. Not "proof" massive voter fraud is going to be attempted, but… c'mon man!
07 Aug 2020: 80k mail-in ballots DQ'd in NY primary; it's an invitation to fraud. Las Vegas officials sent 223K primary ballots to the wrong address. That's a lot of "mistakes". Speaking of mistakes, they can't even get the return address right in VA.
05 Aug 2020: Mail-in ballots in Colorado have pre-cut holes which reveal the red markings on Republican Party ballots. Talk about automating vote fraud. NO MAIL-IN VOTING!!! Meanwhile NV is allowing dementia patients to vote with "assistance." Yeah, nothing to go wrong there.
04 August 2020: US Postal Workers Union just endorsed Joe Biden. Do you think you can trust vote by mail now?
23 July 2020: Ozzie Myers, Corrupt Former 'Abscam' Congressman (D-PA), Busted for Vote Fraud.
30 June 2020: Postal worker tosses load of political flyers into the trash.
28 June 2020: US Postman throwing out GOP flyers; what if he was tossing GOP ballots being mailed in, instead?
27 June 2020: 19% votes invalidated in NJ; mail-in ballots are a cancer.
26 June 2020: Vote Fraud Charges Filed against councilman and three others in NJ, mail-in ballots used.
24 June 2020: About 6,700 Nevada primary ballots rejected over signatures. But none dare call it fraud….
22 June 2020: How "sue and Settle" helps vote fraud.
27 May 2020: Michigan Democratic Official Charged With Altering Ballots in 2018 Election. A U.S. Postal Service mail carrier was charged with attempted fraud for tampering with requests for vote-by-mail absentee ballots. Citizen journalist busts nursing home mail-in voting scandal in Texas.…A non-citizen in Oregon details how the state went ahead and automatically registered her to vote via motor-voter laws.…
25 May 2020: Isn't China threatening US politicians kind'a interfering with out elections? A bunch of SC ballots end up in Maryland. Mail in ballot failures.
23 May 2020:  Facebook helping to hide the OR registration changes. More voters than residents in Detroit. PA dems paid election official to stuff ballot box. Dead voters petition for opposition to Jim Jordan.  New Yorkers ballots cast in their name without their knowledge. Oregon changed hundreds of Republican ballots to "non partisan," denying GOP voters the right to participate in the primary.  And in NJ, Some voters in Paterson, NJ, are frustrated with the widespread voter fraud allegations surrounding this week's vote-by-mail city council election, and are venting their frustration toward Governor Phil Murphy who implemented the election plan.