And "Komenagen: Slog" is a GO!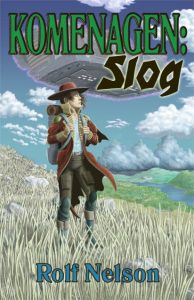 Funny side note: when I was filling in the fields to publish it asked for "artist", and I was thinking "cover artist", so it has Scott listed as a "co author," but he did the cover art. I'm expecting to add some (no idea how many) interior illustrations when it goes to paper, and most likely I'll hire him.
Quick secondary note: if anyone reading it finds any typos or errors, let me know so I can fix things and post an update to fix them.
Thirdly: Reviews are greatly appreciated. Even a short note with a rating is helpful. People are much more likely to make a speculative purchase on a 3.5-star book with a thousand ratings than a 5-star book with only two.