When I read Friday afternoon (12Dec2020) that the Texas case against the states of GA, PA, MI, and WI got denied at SCOTUS, I had only a very brief, very mild "well, that sort'a sucks. Not what I expected." They had what sounded like rock solid arguments and undisputed facts, and the SCOTUS is the court of original jurisdiction so they almost have to take it (or so I thought). It had a couple of dozen other states and attorneys general and interested parties joining in with amicus briefs, and even the president said he would "intervene" (in the legal sense, sort of like an amicus, but actually joining as an official litigant). Then *poof* and it's denied. WTH? But what was odd, and it even struck me as unusual at the time, was that my disappointment was only a few seconds, and very low-key. I mean, Joe Biden taking office as President would be a huge catastrophe, and the normal deadline for the electors voting is getting really close, and I was calm that what had looked like the best shot going a few minutes before had vanished like a morning mist. And I was like "meh. Plot twist."
Very odd indeed. The phrase 'Faith is a funny thing' came into my mind, and I suddenly understood the peace and calm a deeply religious man has in the face of adversity. When you know, absolutely KNOW, that someone smart and good has a plan, a really good plan, a plan that you have seen enough of (even if indirectly) to know it exists, and even though you do not know the details you have total confidence that they are on the case and it will all work out in spite of the plot twists and weird shit you never saw coming, it'll be OK. It was like reading a book, a thriller, by a really good author, who puts in all sorts of plot twists, Easter eggs, unexpected dead ends, double- and triple-agents, hidden meanings, and cliff-hanger chapters as you cut the action to follow another character. You know it'll all come together in the end, and you are just excited for being on the ride.
I can see how a deep faith would provide a man with the same sort of calm acceptance. They they don't need to know what the plan is, just that there is a plan, and the guy calling the shots is good; it'll all be OK in the end, even if it kind of sucks for you personally along the way, it can be confusing as heck sometimes, and people look at you funny. You do what you can, and even if you don't know what all others are doing, you know, deep down, that it will all work out in the end. Yeah, the cliff-hanger last chapter is tense, and it looks dark, but…. it'll all be OK. Maybe you will call me a "conspiracy theorist." Fine, I can call you a "Complicity Theorist."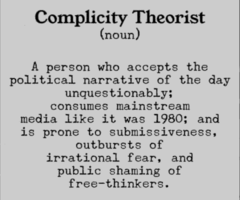 I don't know if this guy's testimony about Zuckerburg's money will make a difference.
I don't know if Col Waldron's testimony (starts about about  6:10) will make a difference.
I don't know if Lou Dobbs revealing four names connected with Smartmatic and Dominion and the CCP will make a difference.
I don't know if Brandy Vaughan's death after she came out against one of the vaccines is connected or will make a difference.
I don't know if WA State candidate Culp's suit to audit the vote will make a difference.
I don't know if the extensive reporting on easy hacking of voting machines will mean anything.
I don't know if the Senate report on Hunter Biden, Burisma, and corruption will make a difference.
I don't know if Chinese guys bragging about their influence on the US government will make a difference.
I don't know if WikiLeaks revealing ties between Dominion and Hillary Clinton and John Podesta will make a difference.
I don't know exactly how Trump will use his 2018 Executive Order authorizing military response to cyber warfare attacks.
I don't know how this massive leak of CCP members around the world will come into play.
But I know it will all come together with quite the exciting conclusion.
Got popcorn?