Some things are hard to explain in a way that anyone will believe you, least of all those you'd most want to understand. No, I mean really hard. I've been an information junkie my whole life, I'm reasonably intelligent, and I spend a lot of time each day reading and following things as they develop. As a result, I not only know a lot, I am also aware of how much I do not know – I'm aware of my "known unknowns" as it were. So how can I explain to anyone how I can be so certain of Trumps win? I can't.
It it sort of like this: What if you were out in the brush and scrub of eastern Washington, and you came across some elephant tracks. Then you smell elephant dung. Up ahead in the trees you see a part of a tusk, a flapping ear, and some large gray patches. You hear the trumpet of an elephant calling out. You realize that you are not really well equipped for an elephant charge, and you had better get the heck out of there before you become goo between his toenails that needs to be identified forensically.
Upon returning to town, you try to tell people about the elephant you saw in the woods.
Yeah…  Suuuuuure thing, buddy. Maybe lay off the sauce for a day or two, OK?
You have no pictures. You have to admit that you didn't actually see the entire thing. But you are ABSOLUTELY SURE you saw it, and that it was real. There is no doubt in your mind. You have spent enough time in the woods, and at the zoo, and… you know. You saw enough evidence, experienced it first hand. You don't how he got there, or where he's going, or what he's doing, but you are CERTAIN he is there….. but anyone you try to tell looks at you like you are a total loon. And the harder you try to convince them, the less they believe, and the more they act like they are looking for a way out of the room to safety.
That's how I feel with a lot of things. But right now, really right now, it is that way with the Trump win. Trying to explain the normies how I know would take far longer than they are willing to listen, it takes way more background and historical knowledge, and legal details than they have, and much to large a shift in mindset than than can make.
So at this point, I've given up trying to explain it in any detail. Just going with:
Oh, he'll win, alright. I don't know how. It'll look like a totally chaotic shit-show, with traitors and backstabbers and misinformation and disinformation and media lies and legal tricks and media not covering parts of the story at all. There will be people, desperate, smart, well-funded people who don't know what the plan is doing their own thing in a thousand different ways that will distract you from the core of what's going on. I've got no idea for sure what's going on in the back-room deals and dark political dungeons. But I'm certain that as the screen gets covered by the huge end-scene fireball of no-way-out like the ending shot of a big-budget action movie, he's going to walk out the winner, with bits and pieces of the blown apart establishment flying through the air about him, flaming and trailing smoke, to splatter on the concrete and dirt, as well as his invisible force-shield that seems to surround him, saying "Sorry to keep you waiting, complicated business….."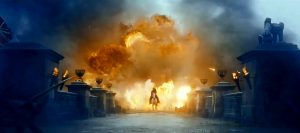 And that is when the real action and cleaning of the Augean Stables will begin in earnest.