Turkey is NATO for some odd reason. They get most of their wheat from Russia.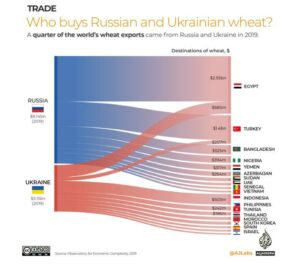 Given:
The current tiff between Russia and Ukraine
March is normally planting time for UKR wheat
Harvests in China have totally sucked the last few years
The wheat harvest in the PNW sucked hard last year
China would gladly buy all Russian wheat
World wheat stockpiles are down
US grain bins are not exactly overflowing
Russia is one of the largest exporters of fertilizer in the world, and that is likely to be disrupted so many foreign harvests will be down even if weather is perfect
The value of AUS and Argentine (major southern hemisphere exporters now harvesting) wheat is up, but actual tonnage increase is nowhere near enough to make up the different in production/demand imbalance
I would expect food prices, even of staples, to soar. Meanwhile the Green agenda has us burning many tons of corn in our gas tanks.
Got garden?