My mom, Dotty Nelson, passed away at the age of 92 on Thanksgiving day.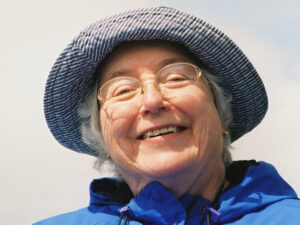 It was not unexpected; she had had several minor strokes and TIAs in the last decade or so, and we thought we'd lost her a couple of times in the last three years. Though still able to drive herself around into her 80s while living in Juneau, the toll of time catches up with us all. She had been well taken care of in the memory-care unit in a Seattle area retirement residence for the last couple of years as her physical and cognitive decline accelerated. She had lost her ability to swallow on Monday, so we knew the end was near. Almost all her local family were able to visit her earlier in the day when we gathered for Thanksgiving lunch. She died quietly in her sleep with myself at hand on vigil. I'd spent a lot of time at her side the last couple of days, mostly reading passages from the Bible aloud to her, as I know she was a life-long Christian. She didn't seem to mind. Her labored, gurgling  breathing of the previous few days slowed, had lapses start to show up, then cease. I now know what the often used term of "death rattle" in breathing sounds like.
She had been married to Dad since 1954, and she almost made it to one more anniversary. Though the frugality born of being born in the 1920s then being raised through the Great Depression and WWII was a facet of her life, she still managed to be a bit of an adventurer and world traveler. She went to college in Eugene, OR, and met my dad when they were both teaching on Coos Bay. When dad moved from California to Alaska in the 1967 (CA in the 60s was no place to raise a family, they rightly thought) she cheerfully went along, bringing the four of us kids with. San Bruno to Juneau (pop 5k and you can't drive to it) was a major change! But the fact is, she had been seriously considering going to Alaska to teach out in the bush when she had met my dad.  She loved fishing from the sand at Eagle Beach, or off the rocks at Point Louisa. At various times she traveled with friends to North Africa, Europe, England, Australia, and always enjoyed the time-share in Cabo San Lucas. She was always the rock of the family could rely on, almost saintly in her patience, reserve, and insight. A more reliable and decent person would be hard to find, and my dad's smartest move in his life was to ask her to marry him. I am sure that myself and my siblings gave her more than a few honest grey hairs, but we loved her dearly, and though she was not outwardly a highly emotive person with her mostly Germanic background, it's clear she loved us too. We are sorry to see her go, but happy she once lived. She will be missed.