I don't really know what to make of this, and I don't have access to the original source data to verify or question it. The birth & death stats in the following table are from the CDC, here: https://www.cdc.gov/nchs/nvss/vsrr/provisional-tables.htm
Year
Month
Number of Live Births
Number of Deaths
Number of Infant Deaths
12 Month-ending Number of Live Births
12 Month-ending Number of Deaths
12 Month-ending Number of Infant Deaths
2020
January
305,000
264,000
1,800
3,742,000
2,861,000
21,000
2020
February
283,000
244,000
1,700
3,744,000
2,872,000
21,100
2020
March
302,000
269,000
1,700
3,742,000
2,887,000
20,900
2020
April
290,000
322,000
1,600
3,733,000
2,974,000
20,800
2020
May
301,000
280,000
1,700
3,718,000
3,017,000
20,700
2020
June
302,000
250,000
1,700
3,716,000
3,041,000
20,500
2020
July
321,000
278,000
1,600
3,704,000
3,091,000
20,400
2020
August
319,000
277,000
1,600
3,681,000
3,140,000
20,200
2020
September
311,000
257,000
1,600
3,666,000
3,174,000
20,100
2020
October
305,000
273,000
1,600
3,646,000
3,209,000
20,000
2020
November
282,000
302,000
1,600
3,630,000
3,272,000
19,900
2020
December
290,000
366,000
1,500
3,611,000
3,382,000
19,600
2021
January
277,000
373,000
1,700
3,583,000
3,491,000
19,500
2021
February
266,000
282,000
1,500
3,567,000
3,528,000
19,300
2021
March
302,000
270,000
1,700
3,567,000
3,529,000
19,300
2021
April
293,000
256,000
1,700
3,570,000
3,464,000
19,400
2021
May
301,000
258,000
1,700
3,569,000
3,442,000
19,400
2021
June
313,000
245,000
1,600
3,581,000
3,436,000
19,300
2021
July
326,000
257,000
1,700
3,585,000
3,415,000
19,400
2021
August
330,000
303,000
1,700
3,595,000
3,442,000
19,400
2021
September
325,000
311,000
1,700
3,609,000
3,496,000
19,500
2021
October
315,000
299,000
1,700
3,619,000
3,522,000
19,600
2021
November
301,000
288,000
1,600
3,638,000
3,507,000
19,600
2021
December
310,000
318,000
1,700
3,658,000
3,459,000
19,700

Mean

302,917

285,083

1,654

3,644,750

3,277,125

19,942

StdDev

15,845

33,612

71

62,293

231,300

596

Mean+1StdDev

318,762

318,695

1,725

3,707,043

3,508,425

20,537

Mean-11tdDev

287,071

251,472

1,584

3,582,457

3,045,825

19,346

Last month Z score
0.447
0.979
0.649
0.213
0.786

0.406
A graph of the numbers shows visually that the numbers changed, but not massively, and the trend was upwards for death BEFORE the vax, and flattened AFTER.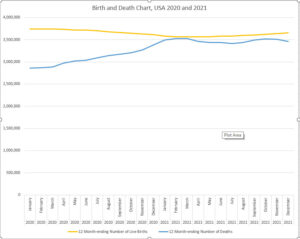 They show no change in trend in any of the major population birth/death stats, in spite of lots of "died suddenly" in the news, record numbers of athletes keeling over, life insurance companies reporting huge numbers above normal on working-age insurance payouts, and all the reported Covid19 Vaxx reported deaths. So… are our perceptions wrong, or are these official numbers being seriously fudged to hide what's really going on? How would someone audit these numbers to find out if they are accurately reflecting what is really going on out there in the real world? The most recent reported month is within one standard deviation (SD) of the mean, most within one SD, meaning the number reported is not  really unusual or remarkable at all. IF these numbers are accurate, then our perceptions of how deadly the vax and covid is are skewed. If they are being seriously fudged to cover up the actual birth and death rate changes, then the conspiracy is huge, and the prosecution needs to be vigorous and penalties imposed harsh.
Related website, all cause excess mortality.
Thoughts on how to verify / audit?